Comming to sale
---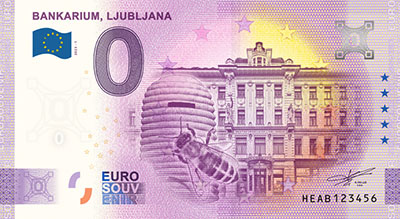 See more...
New issues
---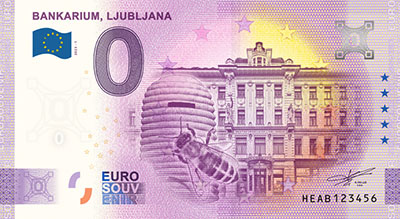 See more...
About the concept
What is it?
Euro Souvenir is made of 100% cotton paper used in the production of genuine banknotes
was created as the first of its kind and is the only original and official concept for the production of banknotes imitation serving as souvenirs
is identical to real banknotes, with the difference that it is not intended for use in payment transactions
contains many protective elements like real banknotes (hologram, microprint, UV protective elements, etc.)
is secured against possible misuse in machines accepting banknotes as well as in banknote readers
each piece is unique thanks to the numbering and the serial code, just like with real banknotes
individual editions are marked with the year of publication as well as the serial number of the series
is created and produced by Oberthur Fiduciaire, which, among other things, also produces genuine banknotes
official and original 0 Euro Souvenirs have the size of a Euro banknote with a nominal value of 20 Euros and are produced in a purple colour reminiscent of a Euro banknote with a nominal value of 500 Euros
the concept and design of 0 Euro Souvenir is protected by a patent and trademark
Philosophy
support and promotion of tourism within Europe
raising public awareness within individual European countries about important cultural monuments, tourist sites, events and famous personalities
support in obtaining additional financial resources for individual cultural monuments and locations of tourist interest
This business model allows tourist sites to generate significant sales and therefore interesting income, which can be used to enhance and support the preservation of cultural heritage for future generations. In addition to additional income for tourist sites, the 0 Euro Souvenir concept is an excellent advertising and communication medium that makes information about European cultural heritage widely known.
Vision
A permanent sustainable souvenir intended for the European cultural and artistic field, which will impress the general public with its ideas, wit, high-quality processing and entertaining form.
The goal
To create a series of official 0 Euro Souvenirs depicting a panorama of the most important and most visited monuments, as well as important personalities of Slovakia.
Target group
tourists
visitors of all ages
collectors and numismatics enthusiasts
Why is it successful?
is created as the first of its kind
its technical design resembles real euro banknotes
replaces official banknotes, on which many important cultural and historical monuments or famous personalities could not be depicted
makes it possible to make cultural monuments, monuments and personalities visible, which were not allowed on real banknotes
an official and original 0 Euro Souvenir with the motif of an important cultural monument, tourist site, museum, amusement park, famous person or event arouses great interest not only among tourists and collectors, but also among the general public
is designed and conceived on the basis of highly elaborated marketing studies of the European market
created in a top company engaged in the printing of securities and banknotes in France
meets the expectations of tourists and visitors when acquiring souvenirs
a cheap but high-quality product that causes a huge collecting phenomenon within the whole of Europe and even beyond its borders
elaborate graphics of the motifs
professional sales support
The facts
the original 0 Euro Souvenir is the best-selling and most requested souvenir in tourist locations in Europe
individual issues of 0 Euro Souvenirs are catalogued in collectors' catalogues
some interesting and limited editions increase their value over time due to the great interest of collectors
many editions were sold out in just one day
approximately 5% of the total number of visitors will buy a 0 Euro Souvenir
the scope of sales is much wider due to the high interest of collectors
0 Euro Souvenir is an exceptional communication tool and quality promotional material for your souvenir.
We are interested
in the issue
of the Euro Souvenir
click here...