Comming to sale
---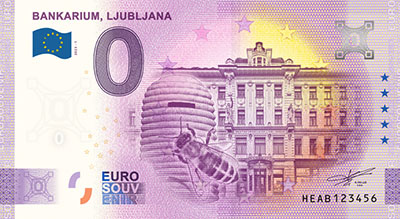 See more...
New issues
---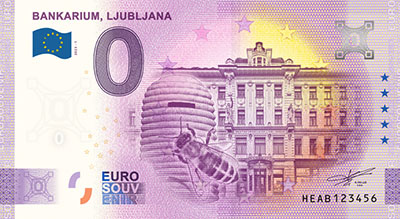 See more...
History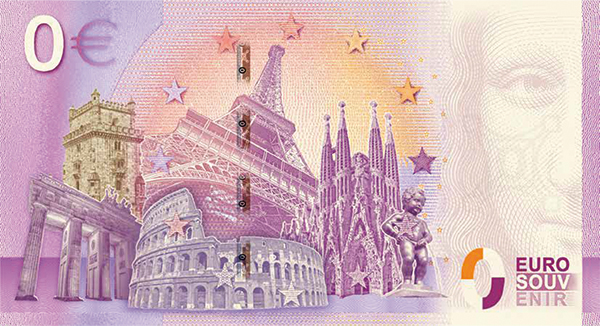 The creator of the idea of the 0 Euro Souvenir concept is the Frenchman Richard Faille, who in 1996 began to cooperate with the French mint "Monnaie de Paris". His idea was to produce personalized medals that museums, places of tourist interest or locations, or amusement parks would sell to their visitors as souvenirs. This idea has been very successful and during 18 years of cooperation, it has sold more than 60 million personalized medals. Currently, even in Slovakia, you can buy commemorative medals in many cultural monuments and tourist locations, which, however, are often made by local manufacturers. In 2015, Richard Faille again created a new, modern, original and unique concept, which is a successful continuation of the previous idea. It is a 0 Euro Souvenir. It is the first original and official imitation of real euro banknotes, which is also often referred to as the "zero Euro note". The new concept was very successfully launched in France in 2015 and in the following years it spread to other countries such as Germany, Austria, Spain, Portugal, Belgium, Luxembourg, and Switzerland, where it also met with huge interest from both tourists and collectors. Since 2018, this concept has also been extended to Slovakia and the Czech Republic. However, the 0 Euro Souvenir concept has already crossed the borders of the Eurozone, or even the European Union, and several motifs have also been released in countries such as the USA, Russia and China.
What makes the Euro Souvenir concept so unique?
With the introduction of the euro, there was a certain loss of the national identity of the individual Eurozone countries due to the fact that universal designs of euro banknotes are used, which do not allow the countries using the euro to create their own motifs, traditionally depicting the most important cultural, but also natural locations, or personalities. What is exceptional about this concept is precisely that, thanks to it, important places and personalities of the given country can once again be placed on a product strikingly reminiscent of a real banknote, even those who would not be allowed to do so even on circulating banknotes, due to the limited number of nominal values of banknotes. Despite the individual issues of individual countries, the 0 Euro Souvenir concept does not divide the countries of Europe, but rather unites them, precisely by presenting their exceptional and interesting locations or personalities on the issues of a specific country, which are brought closer to the residents of other European countries as part of collecting tourism. 0 Euro Souvenirs not only look like real banknotes, but they are also real. Each piece is made on real 100% cotton paper like real banknotes and contains many protective elements such as hologram, watermark, microprint, UV protection elements and others.
Because the 0 Euro Souvenir resembles paper currency, which usually evokes a higher value than coins made of ordinary metals, but its selling price as a souvenir is mostly identical to metal souvenir medals, it has found a lot of supporters in a short time.
0 Euro The souvenir has the size of a euro banknote with a nominal value of 20 euros and its colour resembles a euro banknote with a nominal value of 500 euros.
Become a part of a successful concept and get your cultural monument, tourist destination, or interesting location for your own 0 Euro Souvenir.
We are interested
in the issue
of the Euro Souvenir
click here...